Glitterati, Wedding Dress Shop in Glasgow - Wedding Dress Designers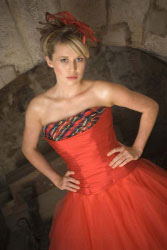 Glitterati Wedding Dress Designers are a wedding dress shop based in Glasgow city centre, specialising in wedding dresses, designer wedding gowns, tartan wedding dresses, Celtic couture gowns, mother of the bride, special occasion, bridesmaids, flower girls, gala queens, communion dresses, evening wear, prom dresses and all accessories, tiaras, fascinators, shoes and bags dyed to match, wraps and cloaks, all to complement and create your individual look.
Brides can select various design options from our collections to create the perfect wedding dress, and then enjoy the sheer luxury of having your dress made to measure, ensuring a perfect fit. Whatever your budget you can be sure of a truly unique gown reflecting your individual style.
We believe that choosing your wedding gown is one of your most important life decisions that should be enjoyed and cherished for many years to come.
Mothers of the Bride or Groom and guests. You can select which style and colour from our designer collection to create your perfect look and have your outfit made to measure or select your outfit from stock. Either way you are guaranteed exclusivity for the wedding and all outfits are fully accessorised.
Prom girls can decide whether to buy from stock, forward order or have a custom made dress. Either way we note when and where your prom is and don't send two identical dresses to the same prom.
Communion girls can buy from stock or order a dress to be specially made. If you like the top of one Communion dress and the skirt of another we can make your dress exactly as you wish it to be, making it even more special. We have Communion veils and tiaras to complement. Please view our Communion Dress gallery on Facebook.
Our aim is to always exceed your expectations and make your dreams come true.
So if you are looking for a wedding dress shop based in Glasgow city centre call Glitterati Wedding Dress Designers today on 0141 552 3567.
An Experience Unlike Any Other